Wednesday, December 25, 2013
Happy holidays from our family to yours!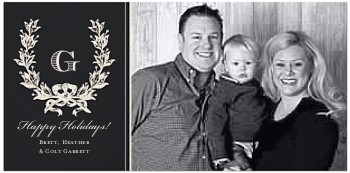 Tuesday, December 10, 2013
Most kids love Santa! He's the jolly old man who brings present to children all over the world in one magical night. Kids line up at malls across the country to sit on Santa's lap and tell them their wish list. Elf's on the Shelf are busy reporting to Santa, making sure little ones are on their best behavior.
It's a nice idea to paint, isn't it?? Maybe we will get there someday.
Here's the reality:
Our fist visit with Santa this year was at the South Park Mall in Charlotte, NC while we were visiting for Thanksgiving. Colt's cousins, Walter Mack & Hudson, had no problem smiling with Santa. Colt, as you can see, wasn't happy at all to be there!
Thinking we should try again, we did. Maybe a different time, different Santa and a little snack before hand would make a difference? Guess what? It didn't. And, in fact, it went even worse than the first time...
Sorry Santa...maybe next year will be less traumatic!!
Sunday, December 1, 2013
Nothing like spending a Sunday in Carolina cheering for the Panthers!
We got to see our pal Cam.
Hadn't had a chance to hang with him since our
GMA visit
.
Looked like he was still doing good.
The Panthers were looking good on the field.
We got to see them play their franchise record eighth straight win.
Go Panthers!
Brett's Granny wore her sassy feather boa.
We think she's the Panther's lucky charm!
Got to catch DMC sing "It's Tricky" at halftime.
Unfortunately, Run was not able to make it.
Maybe next time.
The highlight of the game wasn't Cam doing his "Superman" or even him
handing the football to kids in the end zone.
Nope, it was this giant $10 bucket of popcorn that had unlimited refills!
Let's just say we got our money's worth...and then some.
Smile...while we're all still on the bandwagon!!